Did you know that your hair is one of the strongest fibers on Planet Earth? One strand has the strength equivalent of copper wire of similar size. In fact, if your entire head of hair was made into a rope, it could lift 12 tons of weight!
Some hair has more strength than others, of course. Your diet, the environment, your stress level, and chemical processes all contribute to the health and resilience of your hair.
Vitamins do a lot for your hair; they promote healthy growth and prevent damage from the environment. Taking a multivitamin every day gives you the amounts you need to strengthen and rebuild your hair.
Vitamin C works against free radicals from the atmosphere
Vitamin A, Vitamin E, and niacin all promote hair growth by nurturing the scalp
Vitamin B6 and B12 help to prevent hair loss
Biotin it is an essential water-soluble B vitamin, which increases the elasticity of the hair's cortex, thus preventing breakage.
In addition to vitamin supplements, a healthy diet of fruits, green vegetables, whole grains, and lean proteins will assist you in your quest for strong, shiny locks.
Your daily hair routine can also add strength to your hair. Unless you need to, try not to wash your hair every day. Excess washing will strip your hair of its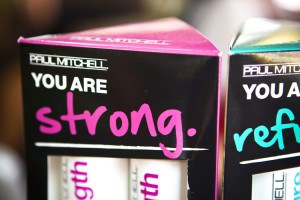 natural oils, making it dry and brittle. In addition to washing less, it is imperative to condition more. Add conditioner to your hair every time you wet it, because the conditioner will lock in your hair's moisture and keep the your hair's cuticle soft and flexible. A deep keratin conditioner once or twice a week seals the deal, creating hair that is healthy, shiny, and strong.
When you're ready to style your tresses, prepare your hair with a protective styling product BEFORE you use your heated tools. Look for a product that contains silicone, which will protect your hair's cuticle and give you a polished, smooth look. It is a good habit to clean your tools with alcohol regularly. The residue your product leaves on them can become seared into your hair and make it weak and brittle.
Finally, keeping up with your regular trims is the best way to keep your hair strong. You may have strands that are two years old or older, depending on your hair's length. By keeping those ends in check, the split ends that crop up will have less of a chance of weakening the entire strand structure.
If you've been checking out other salons in Collinsville, salons in Edwardsville, or even salons in St. Louis, give Sizzor Shak Salon & Color Spa a try! We want you to love your strong, healthy hair!
https://sizzorshak.com/wp-content/uploads/2010/09/strong_banner.jpg
300
900
Sizzor Shak
https://sizzorshak.com/wp-content/uploads/2023/05/sizzor-shak-logo-300x300.png
Sizzor Shak
2010-09-29 09:42:32
2016-05-14 09:54:19
How To Strengthen Those Strands of Hair