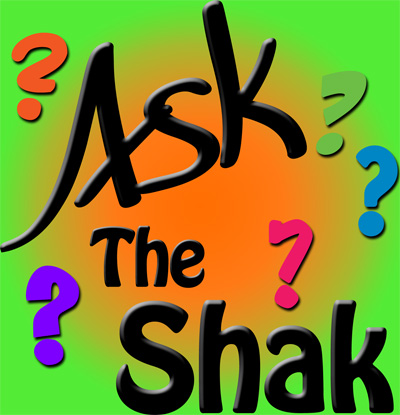 [quote]Dear Sizzor Shak,
I am getting married this fall!!!!! I wanted to know what kind of tips and suggestions you have for me as I plan my big day … I want to make sure everything is fairy tale perfect!
Thanks,
Bella the Beautiful Bride [/quote]
---
Dear Beautiful Bella,
First of all, our very best wishes to you! Getting married is a huge event in a person's life – the closest time that we regular gals get to being a princess and living out a fairytale!
The first thing I would recommend would be to find ways to make the day as low stress as possible. Hiring a professional to do your hair and makeup will give you a chance to relax and look forward to revealing yourself and your amazing dress to your groom!
If you want to make a party of it, invite your bridesmaids, your mom and mother-in-law, your flower girls, and anyone else to join you. Assign someone to pick up bagels and fruit, enjoy some punch, then sit back with your favorite people in the world and enjoy the pampering!
On another note, I would like to encourage you on a very important matter. You said you want to make sure that "everything is perfect." Every bride wants a perfect day – but, as I'm sure you're aware, things happen. Things that are beyond your control, things that are within your control. Life is full of annoyances, even on your special day. But please let me assure you … it will be okay.
Perfect days are hard to come by — Snow White got food poisoning, Cinderella had a wardrobe malfunction, The Little Mermaid got laryngitis, and Sleeping Beauty overslept. Fairy tales definitely have their share of mishaps. So don't aim for perfection. Set you mind on amazing, joyful, extraordinary …words that are more about your delight in marrying your prince and celebrating with all your friends as opposed to logistical issues with the florist and the caterer.
Then you are guaranteed to have an amazing day!!
Best Wishes,
The Shak Staff
https://sizzorshak.com/wp-content/uploads/2010/04/ask-the-shak-square.jpg
415
400
Sizzor Shak
https://sizzorshak.com/wp-content/uploads/2023/05/sizzor-shak-logo-300x300.png
Sizzor Shak
2011-04-23 09:34:51
2013-08-26 16:13:37
How To Plan Bridal Hair For Your Big Day