HEY CURLY GIRLS!
Are you looking for a hair product that will help tame your massive mane? You've met your match!

HOW TO ENTER:
Come in to Sizzor Shak Salon & Color Spa and enter to win $80 of Deva Curl Products.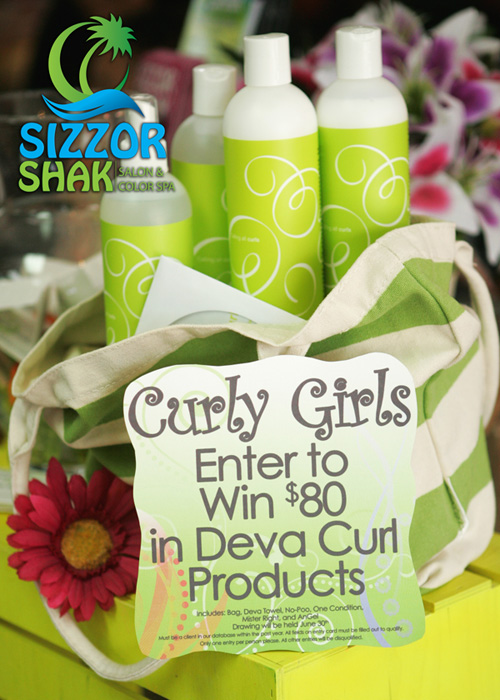 Botanically infused and always 100% sulfate-free!
Depart from the ordinary with this exclusively designed hair care system for curly, wavy and chemically processed hair. Deva's interchangeable product line allows for individuality, simplicity and the freedom to address your hair's specific needs.
What is in the Deva System? The answer is what is NOT in the Deva System. We took the poo out of shampoo, the harsh lathering and dehydrating detergent found in most shampoos that has no inherent value in the cleansing process. We've removed all unnecessary chemicals that often play on hair's vulnerability. We added extra botanical and moisturizing ingredients that cleanse, condition and re-hydrate the hair, more than any products existing on the market today. Each product has it's own unique blend that will enhance the overall quality of dehydrated hair.
Drawing rules: Must be a client within the last year in our database to qualify.
https://sizzorshak.com/wp-content/uploads/2023/05/sizzor-shak-logo-300x300.png
0
0
Sizzor Shak
https://sizzorshak.com/wp-content/uploads/2023/05/sizzor-shak-logo-300x300.png
Sizzor Shak
2010-05-14 10:00:28
2012-03-04 10:40:49
Win $80 of Deva Curl Products